Wedding Ideas
It's said that your wedding day is the "biggest day of your life" and in many ways it's true.
So, planning for the perfect day is high on any brides priority list !
Once you've announced your engagement, people will start to ask whether you've set a date for your wedding day.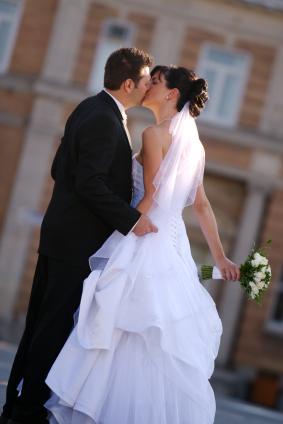 Planning a Wedding
The first thing many couples start with will be their budget - as this can determine just how big you can dream for your special day.
Find out whether either set of parents is able to help with your finances, and plan what you can both contribute between now and the big day.
Whilst the bride might be dreaming about shopping for dreamy dresses, there are many dozens of practical issues that you'll need to discuss.
Indeed, planning and arranging your wedding, discussing ideas and thoughts, is an important part of the wedding preparation for you both, finding out about each others likes and dislikes, finding compromise and working with your future in-laws.
Here's a list of ideas to help you get started :-
Wedding Invitations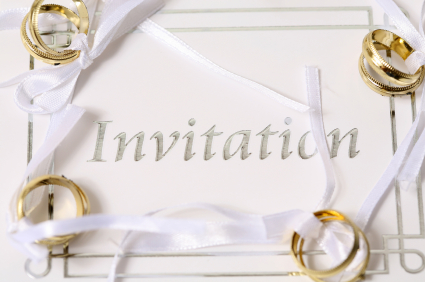 Once you've decided on a date, you'll want to send out wedding invitations to make sure everyone books the date in their diary.
Will you have them printed, handmade, or perhaps you'll choose to make your own wedding invitations?
This is also good time to create and send out a wedding gift list - or set up your gifts lists with your favorite stores.
The Wedding Ceremony
Where and when will your marriage take place, do you want an outdoor beach or church wedding, spring, summer, fall or winter ?
Who and how many guests will you invite? Who will be the best man, will you have bridesmaids or flower girls, if so, how many? What music will you choose - a traditional wedding march or a contemporary song? (it's so easy to choose by listening to mp3 files!)
What style of decorations and flowers would you like - can this be done by a family member or a florist? Choose readings and bible verses to reflect your feelings, practice or write your own wedding vows (or promises) to each other.
Planning Your Wedding Reception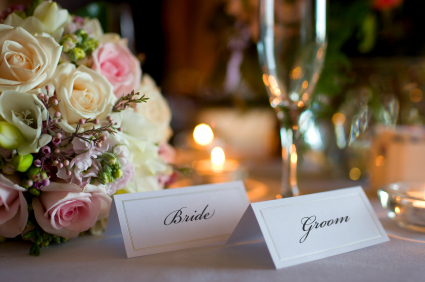 What style do you want, do you want a theme, what sort of venue will you use, who will do the catering, what sort of budget are you on? Will you have a post-wedding party for your wider group of friends?
Who will sit at the "top table", how will you arrange your guests, formally or informal? Will you give wedding favors to your guests, if so, what and where will you buy them?
Organising the toasts to the bride and bridesmaids , making sure the right people know that they're expected to give speeches , making sure everything runs to time (do you need a "master of ceremonies" to help with this?) and making sure the bride and groom leave in good time for their honeymoon .
Your Honeymoon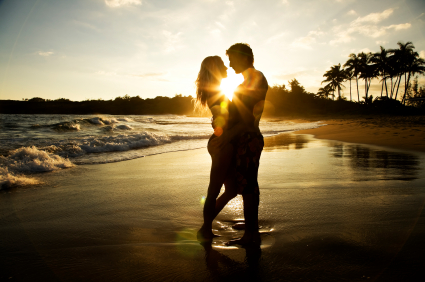 This is traditionally a time for getting to know each other and many couples choose luxury venues for this very special time together.
Whether you choose a local hotel or plan to travel further, it may be easier to book a package deal with a travel agent rather than trying to plan a holiday too!
Other Important Wedding Stuff
You'll also need to :- plan a hen night, choose a photographer, order a cake, order your wedding flowers, buy bridal party gifts for your bridesmaids and, possibly the best man, arrange a car for the bride and bridesmaids, buy the wedding rings, buy your going away outfit and a few new items of clothing and lingerie for your honeymoon.
Now you can see why some people think it's wise to use the services of a wedding planner!
Wedding Photography
If one of your friends is a professional photographer, this decision will be easy! If not, it is a good idea to ask around amongst your friends and family to find out if they can recommend someone. As soon as you have decided on a date it would be a good idea to book the photographer to avoid disappointment. If the photographer is good, their schedule will be busy and you will want to make sure they are available on your wedding day.
Meet ahead to discuss your budget for photography and the type of photographs you want in your wedding album. Choosing photographs is much easier these days as much of it is done online on the photographer's website. You'll want to choose a selection that reflects you as a couple and records your wedding as one of life's special moments.
Related Wedding Links
Wedding Planning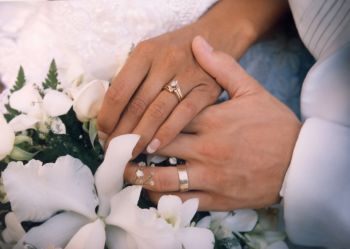 One of the most enjoyable things about being a bride-to-be is being able to go out and buy the latest bridal magazines.
Check out the hottest new styles for wedding gowns, advice and tips for staying as stress-free as possible in the weeks and months leading up to your wedding day.
Often they may offer a pull-out wedding guide to help you in planning and counting down the days, weeks and months before the big day.
Just those simple discussions with your fiancé about how you want your special day to look and feel will get you started.
Unique Ideas For Your Wedding Day
Every bride wants a unique wedding day that is personalized just for you.
Thankfully there are many ways that you can mix and match the traditional with your own unique ideas for you and your husband to be. From writing your own vows for the wedding ceremony, choice of wedding songs, to choosing suitable ceremony readings and verses.
For weddings on a budget, creating your own inexpensive silk wedding bouquets or finding cheap, but beautiful silk bridal bouquets, you might even choose to learn to make your own bridal bouquet can help tie in with your chosen themes - whether that's a color, or a word, putting your own ideas into creative form can help make the day truly yours.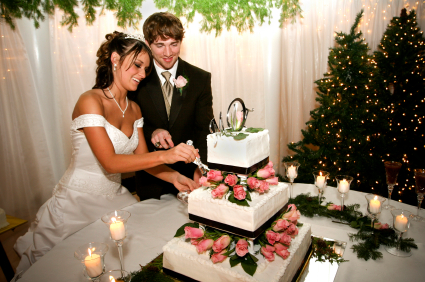 Adding your own creative or unusual
wedding design ideas
with tiered
cakes
is another way of putting your own stamp on the day.
Having a novelty or fantasy theme to your cake can make it uniquely yours - for example, farm animals for the farmer, skis for the skier, a motorbike for bikers, you can have any design you can imagine!
Continue your theme when decorating the wedding reception venue - perhaps with themed wedding favors, balloons or table centerpieces.
For those on a budget, you can achieve a simple elegant, romantic look by simply adding lights which you can probably beg, borrow or steal from neighbors who don't need them again until Christmas.
Ultimately, this is a special day for you both, so try and plan things that you both enjoy and will remember fondly for years to come!
Marriage does not guarantee you will be together forever, it's only paper. It takes love, respect, trust, understanding, friendship and faith in your relationship to make it last.
Wedding Resources:
Free Printable Wedding Invitations & Templates
You may wish to use a wedding poem as part of writing your own vows,
or as part of your wedding speech to your new bride or groom.

Wedding Hair Gallery - photos to help you create beautiful updos & bridal styles

Wedding Dresses - Latest wedding dress trends and fashion advice