50th Birthday Party Ideas
Born in 1969?
Well it's certainly taken a long time to get there, but now you've reached the BIG 50!
Fifty is a real milestone that many people now choose to celebrate. It's a momentous occasion and needs to be celebrated in an appropriate manner.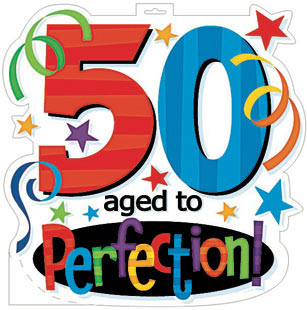 Celebrating Your Fiftieth Birthday in Style
With the ease of availability of balloons, banners and cards, as well as personalised cakes (even with photos) it's easy to set up a simple celebration.
Stuck for ideas on how to celebrate turning fifty?
There are dozens of different ways to celebrate a 50th birthday and here are a few ideas:-
Fabulous 50th Birthday Party Ideas
Ø If you are on a budget, plan your 50th birthday party at home. 50 is known as the golden age, so why not theme your party around gold. Send out invitations you make yourself reflecting the gold theme. To go overboard with gold you could even ask your guests to wear something gold. You can decorate your home with everything from gold balloons, gold streamers and a gold topped cake. As for food, you could serve finger foods which have been prepared by family and friends. Having your 50th birthday at home allows you the freedom to celebrate in a relaxed atmosphere.
Ø Planning a 50th birthday celebration in premises other than your home means that you can be a bit more inventive. Why not have a fancy dress theme such as a tropical theme, an Egyptian theme or a show business theme just to name a few. Whatever theme you choose you can then decorate accordingly going over the top with your decorations. This will be a 50th birthday party the recipient will never forget!
Ø Have a 50th birthday party celebrating the era of the 50's. Wear the clothing and hairstyles of the time and play nothing but music from the 50's. As for food then you could serve what was popular to eat back then. You'll feel as though you've been transported back in time.
Ø Do you live near a river or a bay where you can hire a cruiser? Holding a celebration while sailing on the water is a very unique idea. You can go all nautical with your dress and decorations and serve seafood to your guests. If you can hire a party boat, then that is better still because it will have either a band or a DJ on board to get the boat rocking!
Ø You could host a lavish dinner at a well known restaurant for your partner with everyone wearing their most elegant outfits. Make sure that the restaurant has dancing and that you keep the champagne flowing. You could ask your guests to give a gift of something gold so that it will be a very memorable 50th birthday for everyone.
Ø Plan a "mystery tour" for your partner. Start by having a stretch limousine pick you up and take you to a fancy restaurant and then to a hotel for the night, or you could arrange a night time helicopter flight over the city, just for something different. Don't forget the champagne!
Ø If your partner does not like parties, then a great way to celebrate a 50th birthday is to arrange an early morning balloon flight. Imagine soaring high above the ground, sipping champagne and just enjoying the view and the peace and quiet. It's a memory which will stay on forever.
Reaching the age of 50 is a milestone in every persons' life and it needs to be celebrated in a way that makes the recipient feel very special. How will you celebrate your 50th birthday?
Of course, the addition of a little humor is important too - so a few jokes and funny quotes can help add a light touch to any kind of party.
Quotes for Your 50th Birthday
Here's our favorite funny or unusual 50th birthday quotes:-
"Looking fifty is great--if you're sixty" ~Joan Rivers
"The man who views the world at 50 the same as he did at 20 has wasted thirty years of his life" ~ Muhammad Ali
"At 20 a man is a peacock, at thirty a lion, at forty a camel, at fifty a serpent, at sixty a dog, at seventy an ape, and at eighty, nothing"~ Baltasar Gracian
"I'm fifty six and still a Virgo" ~ Liz Carpenter
"A man is a fool if he drinks before he reaches fifty, and a fool if he doesn't drink afterward"
~ Frank Lloyd Wright
and, last, but not least,
"We know we're getting old when the only thing we want for our birthday is not to be reminded of it " ~ Anonymous
Three Easy Ideas for a 50th Birthday
So, where is a good place for a birthday party ? It depends what you can find locally and what venues are available.
Here are three ideas for your celebration :-
Throw a surprise party - invite all their friends to arrive at a local bar or pub. Arrive half an hour later and just wait until everyone shouts "surprise!"


Book a special trip - this is the kind of milestone where it's appropriate to plan something really special. Perhaps a family holiday, a balloon flight, a weekend in Paris, whatever they've been dreaming of but never yet achieved.


Fancy Dress - this can be a really fun way of celebrating and there's dozens of themes or ideas for what you can dress up as
Fun Games to Play at a 50th birthday party
Here's a couple of easy ideas for games which don't need complicated instructions :
Quack Ducky Quack - this is much like the childrens party game. Someone is blindfold and they have to go round the room sitting on peoples laps asking them to "quack" - they can take off the blind fold when they guess the name of the person correctly. Then the game starts again, with everyone changing places and the person whose name was guessed wearing the blindfold.


Charades - this is an old favorite and is good fun for smaller groups of adults or older children.


Touch Your Toes - with an empty cereal box placed on the floor, competitors have to reach down and pick it up without anything other than their feet touching the floor. After each round of the room, more of the cereal box is torn away, leaving a smaller box each time to pick up. You'll be surprised how competitive the men can be on this one!
You can find over 100 more party games at Zaural.ru

Thank you for visiting!