Advent Wreath
Welcome to how to make an advent wreath.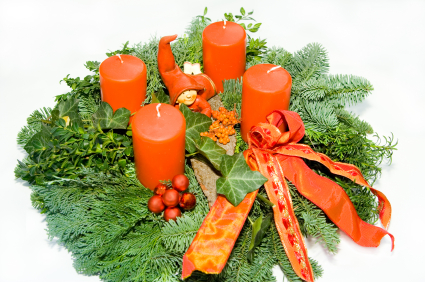 Christmas is a special time of year when we remember events of over 2000 years ago, spend time with family and friends, and sometimes get fraught about what to buy for who!

Advent celebrates the four weeks before Christmas and many people enjoy making their own advent wreath and lighting an advent candle.

It's a lovely way to get creative before the real rush of Christmas starts and while you can still enjoy the anticipation of the festive season.


How To Make An Advent Wreath
Use real holly or evergreen and form into a wreath and purchase a metal 4
ring candle holder and insert the three purple candles and one pink one.

These colours for the candles are traditional - but of course, you can use
whatever you like. The purple colour symbolises the coming of a King - born as a baby in Bethlehem.

You may wish to add a plain white candle in the centre, to light on Christmas Day, as well as the surrounding four Advent candles.

Alternatively, you can also get some green florists foam and cut to shape if necessary. Decorate it with cuttings of fir tree, ivy leaves and other evergreens from the garden.Carefully push in four candles to the foam - you'll need to ensure that they are supervised at all times for safety.


Christmas Traditions
The Advent wreath started in Germany as a Lutheran tradition, symbolising differing things depending on your culture.

The lighting of the Advent candles provides an opportunity to include the whole family, including the children, in preparing for the Christmas season and telling the story of what Christmas is really about.

You may wish to take this opportunity to read a few verses from the Bible relating to the birth of the baby Jesus in Bethlehem - a story that children never cease to love.
If you visit the traditional German Christmas markets, you can still see them selling advent wreaths - many homes and even hotels will have one and light one candle for each week of advent .

Visit our recommended sites for detailed instructions on how to make an advent wreath:-

Look here or here for an advent wreath for children to colour.

We'd love to hear your ideas for getting creative this Christmas - please do email us below.

Recommended Resources
Homemade Christmas gift ideas - tips on creating your own home made holiday gifts
Look here for great ideas on how to decorate your Christmas table and for links to a great ideas for Christmas table linen, table runners and napkins.