Christmas Holiday Ideas
Do you associate the holiday season with stress or happiness?
The holidays are a great time to focus on strengthening bonds with family and friends.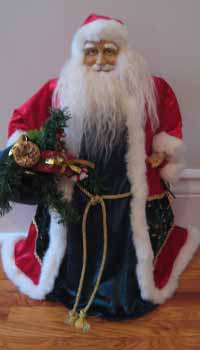 It came without ribbons.
It came without tags.
It came without packages, boxes, or bags.
Maybe Christmas doesn't come from a store.
Maybe Christmas means a little bit more!
Handwritten holiday cards or letters are a great way to let people, near and far, know that you are thinking of them and how much you appreciate them.
This is a good activity for the whole family. Children can practice their writing skills and learn the importance of giving back and staying connected.
Every family has certain traditions that they look forward to each year.
Why not start a few of your own? The holidays are the perfect time to spend some time together doing the hobbies you love, such as baking, crafts, cooking, and seeing friends and family!
We have a Christmas tradition of always buying a tin of Quality Street chocolates for the holiday season.
Give the Gift of Time for Christmas
The holidays are one of the best times of year to volunteer your services – there are so many people in need. Look online or in your local newspaper to find organizations that you and your family might be able to help.
There are countless things you can do to pitch in – from sorting food at a food bank to reading Christmas stories at a local library. Share your volunteer activities with younger family members to teach them a valuable lesson about what the holidays are really all about.
Share the spirit of the holidays with your children by having them choose one gift on their "wish list" to give to a child in need, then take them along to shop for it, wrap it, and deliver it. This will teach them about the reality of the holidays and how important it is to give rather than simply receive.
Not-for-profit organizations need help all year long, so consider sticking around after the holidays too!
A Christmas Holiday Cookie Swap
Organizing a cookie swap amongst friends is a fun way to see each other before the holidays – plus you'll each go home with some delicious treats. Depending on the number of people invited, each person bakes one dozen cookies for herself, plus enough for each person to take six or twelve home. One person volunteers to host the cookie swap – aim for a weekend afternoon – and take the opportunity to catch up with friends, enjoy a cup of tea, and share holiday tips. Each person will happily go home with a variety of treats and biscuits – perfect for having around the house at the time of year when guests are apt to drop by. To make your cookies stand out, pack them in wax paper and set in a decorative cookie tin (you can find one at a local dollar store). This is a fun and budget-friendly way to share the holidays with friends.
Other fun Christmas Ideas
Christmas Holidays in The Sun
If the idea of one more week in the snow is enough to drive you mad, choose a Caribbean holiday this year! While your neighbours are wrapping Christmas presents, you'll be busy choosing which bikini to pack! Decide as a family to forgo the usual gift exchange routine, and instead put the money towards your exotic getaway! Choose an all-inclusive option for the ultimate in relaxation, and let your worries slip away as you spend the holidays swimming, dining, and having fun as a family! Many resorts even offer special gala dinners during the holidays, and rates are often surprisingly affordable. You might be away from the tree and turkey, but spending time as a family during the holidays is the most precious gift of all!
A Homemade Christmas Holiday
Bring the holidays back to their original glory by ridding yourself of the necessity to spend a lot of money on material things. This year, have a down-to-earth holiday! Not only is it easy on the budget, it will also create a memorable festive season and encourage everyone to focus on the important things in life, like being together.
You can enjoy a "homemade holiday" by crafting everything from your decorations to your gifts with your own two hands. Get the whole family in the spirit by making an "I made it myself" rule when it comes to gift giving. Decorate the tree with popcorn strings and homemade ornaments, just like a family would have done one hundred years ago! Cook up a storm with homemade cranberry sauce, stuffing, and gravy.
Spend the holiday engaging in fun family activities like singing Christmas carols (or learning to play them on your instrument), tobogganing, and decorating the house. Hosting a homemade holiday gives lots of opportunity for fun family activities that will quickly become holiday traditions!
Creating your own traditions is all about putting a bit of extra time and thought into each aspect of your holiday. Think about the memories you are creating for your family, and the valuable lessons that are being learned by everyone – even you! Next year, you'll be thinking of ways to build on the new traditions you've begun!
Happy holidays!
Christmas Ideas and News Headlines
A Song Was Heard at Christmas
Letter To Santa Claus
Christmas Wishes
Snowball
Christmas
Twelve Days of Christmas prep: How to have a happy and debt-free holiday
Girl who survived deadly arson sees Christmas wish for holiday cards go viral
Christmas Shows Are TV's December Comfort Food
Emmerdale: Ashley and Laurel get back together at Christmas, says Charlotte Bellamy
15 of the best places to spend Christmas


Celebration Blog Categories
Useful Christmas Celebration Resources:
Christmas Jokes for the Festive Season - Enjoy a few laughs and get into the Christmas spirit


For Christmas decorating ideas and Christmas table linen, visit Christmas tablecloths

Put a smile on the face of your child, download Personalised letters from Santa

Christmas party dresses- find the special dress you are looking for at dressearch.com

Christmas gift ideas- simple, effective and creative gifts

Christmas poem- for use in your cards or for reading out loud
Christmas Trees - Stunning photos of Christmas trees