Eulogy For My Dad
Eulogy Definition
A eulogy is a speech or piece of writing that praises someone who has recently died. Typically it refers to fond memories and positive characteristics and actions of the person during their life. The eulogy is usually written and delivered by someone who knew the deceased person very well, either a member of the family or a close friend.
A eulogy poem can express our innermost thoughts and feelings at a time when the right words can be hard to find.
I Love You Dad
I love you Dad with all my heart
And hate that we should be apart
Our love is a bond that can't be broken
You may be gone, but never forgotten

I remember the day you went away
The pain in my heart is every beat
But I know that eventually, one day
We will, once again meet

The loss is something I can't describe
I'm really going to miss you
One day I'll be back by your side
So I can hug and kiss you

There are no words to tell you,
Just what I'm feeling inside
The shock, the hurt, the anger
One day, will gradually subside

Things will never again be the same
And though I'm hurting quite bad
I will smile whenever I hear your name
And be so proud to remember my Dad

~ Diana Doyle
Sleep well darling Dad, forever in my heart and my thoughts.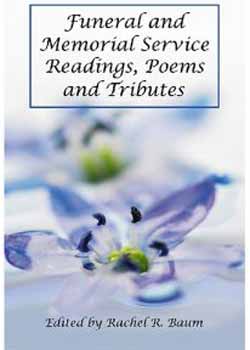 Finding Suitable Eulogy Poems
Whether you are
looking for poems
to express your own feelings at this time, poems suitable for eulogies or are preparing a eulogy speech, you will find everything you are looking for in the book of "Funeral and Memorial Service, Readings, Poems and Tributes".
You will find a list of eulogy poems, (over 50), such as the eulogy poem, "Remember Me", are included in this resource of Poetry for Eulogies. You will find eulogy poems suitable for a father, or a mother or a number of other poems suitable for a eulogy.
Also included are bible readings and hymn suggestions that you may find helpful.
Memories of Dad
I will take this special moment
To turn my thoughts to Dad
Thank him for the home he gave
For all the things we had.

We think about the fleeting years
Too quickly, gone for good
It seems like only yesterday
I'd go back if I could.

A time when Dad was always there,
No matter what the weather.
Always strong when things went wrong
He held our lives together.

He strived so hard from day to day
And never once complained.
With steady hands, he worked so hard
And kept the family name.

He taught us that hard work pays off,
You reap just what you sow.
He said that if you tend your crops,
Your field will overflow.

My life has been bountiful
He taught me how to give
In his firm and steadfast way
He taught me how to live.

Dad dwells among the angels now
He left us much too soon
He glides across a golden field
Above the harvest moon.

I see him in the summer rain,
He rides upon the wind
And when my path is beaten down
He picks me up again.
Eulogy for Father - I'll Fly Away
Has it been that long
Since I sat upon your knee?
You sang to me so sweetly.
I hugged you happily.

Your voice was so strong,
As you spoke to me that day.
You talked about Heaven.
You said, 'Soon, I'll fly away.'

I never really understood
Just what you tried to say.
I only knew I loved you.
I didn't want you to go away.

'Daddy loves you, honey'
Was the last thing you said to me.
At once I understood those words
And wondered why I didn't see.

On the morning, when his life was done,
My Daddy flew away,
But I know his love will stay with me,
Forever and a day.
Thanks for visiting , I hope you found a eulogy poem that will be of help.