Wedding Songs
You have been waiting and planning for your wedding day.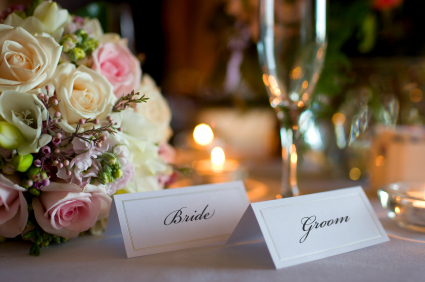 Everything has to be just perfect - the wedding songs, vows, speeches and the toasts.
Wedding music planning depends largely on what kind of music you would like to dance to. Your first decision that needs to be made is whether you will have a band or dj.
Wedding Music
If you wish to join these two elements, many bands will play your favourite pop songs. Or you can have a combination of the two, have the band earlier on in the evening, as bands will only usually play for two hours, and then have a dj later on.
The beauty of getting a good band is that if you have a certain song that you wish to have that is not in their usual running order, for the song then they will be able to play it for you. Make sure you give them the words and sheet music plenty of time before the wedding
The most popular tunes for the bride and groom's first dance are often love songs. Many couples would chose music from artists such as Celine Dion 'My heart will go one' or Elton John 'Candle in the Wind'. If you do not have your own song then ask your band leader or dj to recommend a song.
The best choice for a first dance is music that starts off slowly and grows faster as it goes on so that when your guests join in it is more up beat. A good example of this is Nat King Cole's 'Let their be love' or 'What a Wonderful World'.
Although the bride and groom first dance is the most important there are other dances that are very special.
First is the father daughter dance, it is a special and unique occasion for a father and daughter to share in. The same works the other way around which is why finding weddings songs for mother and son dance, can be equally important. It is probably one of the last times that the parents dance with their children.
However, there are some couples who do not have a band or dj in a traditional sense, and instead have a Hawaiian Luau, which of course contains a completely different kind of band.
Related Wedding Links
Some couples have had Line dances and Ceilidh (Scottish Traditional Dancing), these dances can be a really good idea as they involve everyone and it means that guests that would not normally mix, have to dance together. Also it means that guests that would not usually dance do as they are told what to do. As not many people have these kinds of dances it would make your reception unforgettable.
Once your band or dj have been decided then you have to place it in your Wedding Day itinerary. Traditionally the band will start up after the cake cutting. Then you have to say when you will finish so that the band will know when to pack up by. This will be dictated largely by the venue that you chose, for hotel's will have definite ideas about what is a social hour to finish.
List of Popular Wedding Songs
It's hard to limit any list to the best Top 10 wedding songs, so here's our list of popular wedding songs:-
All I Want is You - U2
Angels - Robbie Williams
Because You Loved Me - Celine Dion
Can You Feel the Love Tonight - Elton John
Come Away With Me - Norah Jones
Every Breath You Take - Sting
Fly Me To The Moon - Frank Sinatra
How Deep is Your Love - The Bee Gees
How Sweet It Is To Be Loved by You - James Taylor
I Will Always Love You - Whitney Houston
Irish Wedding Song - Al Logan
Just the Two of Us - Bill Withers
Let's Stay Together - Al Green
Love & Marriage - Frank Sinatra
Love Me Tender (various singers)
Power of Love - Jennifer Rush
She's The One - Robbie Williams
Something - Beatles
Take My Breath Away - Berlin
Thank You For Loving Me - Bon Jovi
The Look of Love - Dionne Warwick & Burt Bacharach
The Very Thought of You - Nat King Cole
Unforgettable - Nat King Cole
We've Only Just Begun - The Carpenters
What a Wonderful World - Louis Armstrong
When You Say Nothing At All - Ronan Keating
Without You - Nillson
Wonderful Tonight - Eric Clapton
You're My Best Friend - Queen
You're Still the One - Shania Twain
The above list is not meant to be comprehensive, but includes long-standing songs with meaningful lyrics and familiar tunes.

Popular Hymns for the Wedding Service
Popular wedding hymn choices include:-
All things bright and beautiful
Amazing Grace
Crown him with many crowns
Guide me, O thou great redeemer
I danced in the morning (Lord of the Dance)
I vow to thee, my country
Lead us, heavenly father, lead us
Make me a channel of your peace
Morning has broken
O Jesus, I have promised
Praise my soul the King of Heaven
The Lord's my shepherd
What a friend we have in Jesus
The Irish Wedding Song
Here they stand hand in hand
they've exchanged wedding bands
Today is the day of their dreams and their plans,
and all we who love them just wanted to say.
May God bless this couple who married today
In good times and bad times in sickness and health
may they know that riches are not needed for wealth
and help them face problems they'll meet on their way
Oh God bless this couple who married today
May they find peace of mind comes to all who are kind
May the rough times ahead become triumphs in time
May their children be happy each day
Oh God bless this family who started today
As they go may they know every love that was shown
And as life it gets shorter may their feelings grow
Wherever they travel wherever they stay
May God bless this couple who married today
Thanks for visiting Special Moments, I hope you found a suitable wedding song for your special day.