1 Year Anniversary Ideas
Made it through your first year of marriage? Congratulations!
They say that the first year is the hardest, where much is learned.
You have completed the first hurdle and managed to make it further than many couples.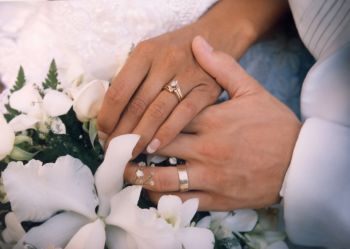 Warm embrace. Loving eyes.
A simple glance with no disguise.

Caring hands. Gentle heart.
Never to be torn apart.
Unconditional love.
Heart that's true.
A life of love built for two.

To have, to hold,
for always and forever.
May the love you share always keep you together.

Remember the things that you hold so dear,
Especially on this day, as you celebrate your first year.
This is perhaps one of the most important anniversaries so you better remember it, forget and you could be in the dog house. It is also a time to celebrate and look back on your past year together. The actual day of your anniversary there are a couple traditions you should carry out in order to keep things alive.
Hindsight is a wonderful thing. If I'd known then what I know now, I would have married you sooner. Happy First Anniversary
On Your First Wedding Anniversary
Cut the Top Layer of your Wedding Cake
Hopefully you saved the top layer of your cake and put it in your freezer. Take it out a few hours before you're ready for it then cut it together just like you did on your wedding night. Feed one another a bite. Warning, it may not taste that great as all cakes don't take to the freezing process the same so be prepared with a drink!
Look Through Your Wedding Album
Sit down together and look at your wedding pictures. If you have a video you can play that as well and laugh at some of the sillier moments.
Relive the wedding night
Everyone knows how much fun the wedding night after party can be so bring that excitement and passion back. Ladies put on your wedding night lingerie and seduce your man!
Second Honeymoon
Some couples like to go on a second honeymoon and take a trip together. This is a great idea as it is quality time you will get to spend together as a couple. If you didn't get a chance to go on a honeymoon then you should try to get one in this time around. If you already have kids find a babysitter to watch them and at least go away for a few days. Couples need to connect and be able to spend time together, especially early in the marriage as it will set the tone and commitment level for future years.
Traditional Wedding Anniversary Gifts
As you are just starting out in wedded bliss I thought I would include a list of traditional wedding anniversary gifts so you will be well prepared for the future. Choose from traditional or modern anniversary gifts and buy a beautiful bouquet of flowers featuring your wedding anniversary flower.
| | | | | |
| --- | --- | --- | --- | --- |
| Year | Traditional | Modern | Flower | Stone |
| 1 | Paper | Clock | Pansy | |
| 2 | Straw/Cotton | China | Cosmos | Rose Quartz and Garnet |
| 3 | Leather | Crystal/Glass | Fuchsia | Crystal |
| 4 | Books/Flowers/Fruit | Electrical Appliance | Geranium | Amethyst and Topaz |
| 5 | Wood | Silverware | Daises | Turquoise |
| 6 | Iron/Sugar | Wood | Calla Lilies | Amethyst and Garnet |
| 7 | Copper/Wool | Desk set | Jack-in-the-pulpit | Lapis Lazuli and Onyx |
| 8 | Bronze/Pottery | Lace/Linen | Clematis | Aventurine and Multi-coloured Tourmaline |
| 9 | Pottery/Willow | Leather | Poppies | Lapis Lazuli and Tiger Eye |
| 10 | Aluminium/Tin | Diamond Jewellery | Daffodils | Black Onyx |
| 11 | Steel | Fashion Jewellery | Morning Glories | Hematite and Turquoise |
| 12 | Linen/Silk | Colour gems/Pearls | Peonies | Agate |
| 13 | Lace | Furs/Textiles | Hollyhock | Citrine, Malachite and Moonstone |
| 14 | Ivory | Gold Jewellery | Dahlia | Moss Agate |
| 15 | Crystal | Watches | Roses | |
| 20 | China | Bone/Platinum | Day Lily | Emerald |
| 25 | Silver | Silver | Iris | Sterling Silver |
| 30 | Pearls | Diamond Jewellery | Sweet Pea | |
| 35 | Coral | Jade | | |
| 40 | Ruby | Ruby | Nasturtium | Rubies |
| 45 | Sapphire | Sapphire | | Alexandrite |
| 50 | Gold | Gold | Violets | |
| 55 | Emerald | Emerald | | Alexandrite |
| 60 | Diamond | Diamond | | |
| 70 | Diamond and Platinum | | | |
| 75 | Diamond | | | |
1st Anniversary Gifts
The traditional wedding anniversary gift for the first year wedding anniversary is paper. Seriously? well this one will have you thinking out of the box! Impress her with tickets to a favorite show, game (maybe more your thing but depends on the girl), or flight tickets to some romantic destination.
On the more romantic side (and cheaper if money is tight) arrange a picnic, leave love notes around the house, or make a photo collage of your special times together.
Wedding Anniversary Flower
The traditional wedding anniversary flower for a 1st wedding anniversary is the PANSY. Your wife would love to receive a bouquet of flowers which include the traditional flower for a first wedding anniversary or you can include the pansy as a theme in decorations for a 1st wedding anniversary party.
Gifts can vary depending on the couple and what you hope to say with your acknowledgement of the special day. If you don't care about traditional wedding anniversary gifts then the world is your oyster! Above all be creative and make it personal. Give from your heart and they will be sure to love it!
More First Anniversary Gift Ideas
Here's a few ideas to get you thinking:-
First Year Photo Album
Make a book of all your special times together over the past year. It will be fun to look back on and even laugh at. You can do this as a scrapbook where you paste pictures in and other decorative items. Or you can do this as a professionally bound book online that you make and order a printed copy of.
First Anniversary Date Night
If you've had a busy year and found that you don't have a lot of time together then this is the chance for a true date night. Do something fun you usually don't have the time to do.
Jewelry
Always a winner with the ladies you can score major bragging points if you get your wife a great piece of jewelry. Or make your man shine with some great jewels that will make him feel special.
Special Gadget
If your spouse has a hobby and you want to get them something special just for them that they can enjoy then you should. They will love it and realize how lucky they are to have someone who encourages them to do their own thing and pursue their favorite activities.
After a year of being married, you've got some idea of what your husband or wife would like - whether it's a gift or some shared experience.
Most of all, don't forget to make sure that you can spend time together on your special day, for many that's the best gift of all!