Eggsciting Easter Ideas
For many, Easter signifies the beginning of spring.
Easter eggs represent new birth, and the pastel colors – particularly the yellows and purples – are everywhere!
Make this Easter one to remember by making it the ultimate family celebration.
Easter Dates for 2020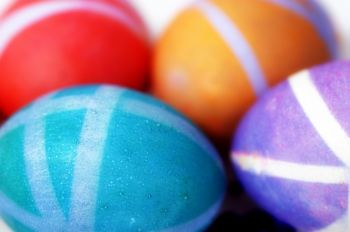 It is said that the name "Easter" is derived from the name Eastre, the Teutonic goddess of Spring. Whatever the truth, Easter egg activities have become a part of Western culture.
Easter 2020 is on Sunday April 12th
In 2021 Easter will be on Sunday April 4th
Community Activities for Easter
Easter is a good time to think of others who are less fortunate or to get involved in a community project that would help your neighbourhood. If you belong to a church you can encourage others to participate. Below I have listed some possibilities, I'm sure you can come up with some of your own ideas for Easter.
Organize a dinner for the homeless, less fortunate
Get involved in your neighbourhood spring clean up
Participate in a 10K run for charity
Organize a blood drive
Visit an elderly neighbour
Outdoor Easter Egg Hunt
Kids love waking up on Easter morning and taking part in an Easter Egg hunt. Start a new tradition by hosting a family, or neighbourhood, traditional outdoor Easter egg hunt!
The bonus? You won't find stale Easter eggs under the couch cushions in September!
Creating an outdoor hunt can be just as fun for adults as it is for the kids. Choose a location, such as a local park or a large backyard. Hide little eggs everywhere – under leaves, in flowers, on the park benches and play equipment. Larger items, such as chocolate bunnies, can be labelled so you don't have one little boy hogging all the big things! Call everyone together and set some ground rules, and then let the games begin.
Night Time Easter Egg Hunt
If the kids are older, consider holding your hunt at night time, with the help of flash lights to add a fun element of surprise to the evening! Adults will have fun with this one, as well!
Easter Egg Scavenger Hunt
A scavenger hunt is also a fun twist. Create a map and a set of clues and send everyone on their way! Make sure someone stays at home-base to greet any tired searchers!
Easter Brunch
Traditionally, many people choose to serve ham at Easter time. Carry on this tradition with a modern twist – a brunch!
Make it a potluck if you want to tie it in with your outdoor egg hunt. Serve fruit salad, ham, eggs, and pancakes – get creative and shape your pancakes into bunny ears! Devilled eggs, fresh bread, and lots of fresh veggies will make this a delicious late morning meal.
For the kids, serve chocolate milk, and for the adults, a nice sparkling wine will do the trick just fine!
Easter Crafts for Kids!
You may wish to work on decorating eggs a few days before Easter so on the special day, you already have your decorations completed!
Decorating real eggs is a fun way to pass the afternoon! You can either use hardboiled eggs (great for young kids) or blow the yolks out of fresh eggs to create a craft that will last.
To blow out the yolks, carefully prick each end of the egg with a sewing needle, lengthwise. Blow from one end, letting the contents drain into a bowl. Rinse the emptied eggshells to make sure that no egg residue is left to grow bacteria. Then, use water paints to create colourful creations! Note that if you use hardboiled eggs, they will rot within a couple of days.
Your works of art can be displayed in bowls, Easter baskets, or hung from an "Easter tree." Or, have your children give them to family members as gifts.
A Non-Traditional Easter
Typically, Easter offers a four-day weekend. This can be a great time to leave town for a few days!
Plan a romantic getaway, or a family trip to a city you've always wanted to visit. Pack up the car, or jump on a plane, and see how much you can pack into three or four days away from home.
Spend the long weekend visiting museums, trying new restaurants, and touring a new area. From aquariums to shopping, there's always something to do when you're new in town!
Return home rejuvenated, and ready to tackle that spring cleaning!
Easter Activities for the Whole Family
If your family attends church, Easter is a great time to talk to your kids about religious beliefs and practices. Make it fun by reading Easter-themed stories and working on coloring books together that depict Easter images.
If your family prefers to celebrate the spring aspect of Easter, consider planning a family trip to a local farm or petting zoo! The kids can enjoy pony rides and see the baby animals – a great way to learn about how spring represents new growth!
Hot Cross buns are another Easter favorite. Although they are now available year round they are traditionally eaten on Good Friday. Hot cross buns are made with currants or raisins and spiced with cinnamon, they are generallt eaten warm or toasted with butter. They are easily recognized by the marking of a cross on the top. The cross is a symbol of the crucifixion.
Hot Cross Buns Nursery Rhyme
Hot Cross Buns
Hot Cross Buns
One a penny, two a penny
Hot Cross Buns
If you have no daughters,
Listen to your sons
One a penny, two a penny
Hot Cross Buns
From Easter eggs to scrambled eggs, Easter is a wonderful time to get the family together and enjoy a long weekend. Whether the kids are little tots or all grown up, planning a family get together over this spring celebration is the best way to celebrate!
Do your Kids Believe in the Easter Bunny?
For younger kids, they can have fun using the internet to find out where the Easter bunny is right now ? Learning how to track down the Easter bunny can help them understand and use the internet for something they are keen to discover, following him every day in the Lent period.
Easter Crafts & Activities for Kids
Younger children will enjoy having their own easter bunny to color, or download a range of printable items for this holiday season.
Easter activities for primary school students include creating an unusual bonnet or easter basket - why not make an easter bonnet specially for a parade for parents.
Older children might like to bring items for easter baskets to make in the class room.
Easter is a special time of year when we remember events of over 2000 years
ago, eat chocolate & candy and get an extra holiday!

Not only that, but on the Christian calendar it represents so much more - when Jesus Christ died and rose again.
Easter Resources:
Free printable coloring pages for Easter - Easter Coloring & Crafts
Inspirational Easter poems - Easter Poems
For some great ideas for Easter table linen, table runners and napkins.