Retirement Gifts
The traditional retirement gift of an engraved watch is bizarre in the extreme.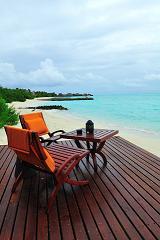 Finally, there's little or no clock-watching to be done, your time is your own, and your work colleagues give you a time piece!
Retiring from your job is a really big deal, especially if you've worked with the same company for many years.
Many people find it difficult to find the perfect retirement gift but it really isn't too hard and you can use any budget.
We have come up with a number of retirement gift ideas for you to consider, or perhaps some of the gift ideas will get your creative juices flowing so you can come up with your own great ideas. Just be sure to make it personal and give from the heart. You can be sure that your gift will be appreciated at this time.
Retirement Gift Ideas We've Discovered:-
A Notebook Computer – You may think that this is a lot to pay for a retirement gift, but if you can get people to put in money with you, you will find that not only are they coming down in price, it will also be one of the most useful gifts to give to a retiree. They will be able to keep in contact with their former colleagues using email and it may even prompt them to do some online courses to keep their brain active.


Golf Equipment – Maybe they love to play golf but because of work commitments they haven't had the time to get out on a golf course. This is where you can help them out. There are many pieces of equipment needed to play golf from golf clubs to golf tees, so the budget for these items can go from low cost to high cost. This is a great way to get exercise and will be a very valued retirement gift.


Travel Voucher – To celebrate the end of their working life they may decide to travel overseas. A great retirement gift is a travel voucher which will help offset the cost of their trip giving them more spending money. It's also a great way to encourage them to get out and see the world.





Personalized Bottle of Wine – This is a unique retirement gift and it's made even more personal with the inclusion of the retirees name on the label. You can choose a low cost wine or you can go for a really expensive bottle.


Gift Basket – A gift basket can contain a nice bottle of wine or champagne and a couple of glasses as well as chocolates or other snacks. This retirement gift can be a small token or it can be a gift which is really extravagant.


Digital Photo Frame – You can load onto your digital photo frame all the photos you have taken over the years which will be a compilation of their life including times spent with family and friends. This is a gift which can be displayed in a prominent position on a sideboard or desk and display your photos over and over. They hold many photos so you won't be tired of seeing the same ones too many times and you can turn them off as well.


Engraved Mug – This is a retirement gift which they can use on a daily basis and remember the good times they had working with their colleagues. You can choose a special mug which you can have engraved with the retirement date and the name of the place you used to work at.


Garden Tool Set – If the retiree is a keen gardener and loves to spend hours in the garden, then a garden tool set is the perfect retirement gift.


Retirement Gift Ideas for Women
Luxury Gift Baskets, Spa Food and Wine, Gardening etc.
Cartoon Caricature of herself or her coworkers
Gift Book, for example the Lonely Planet 1000 Ultimate Adventures
Blanket or Throw
Patio Lounger
Supply of Wine
Name a Star
Hobby Supplies or Art classes
Decorative item for display in the home
There are many more retirement gifts which are budget priced and also high priced and it's a matter of how much you are willing to spend.
Do take some time finding out about the retirees plans on retirement, their interests and hobbies to enable you to choose the appropriate gift.