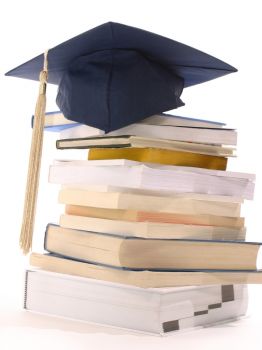 Celebrate Graduation Day
Congratulations! Whether it's kindergarten, middle school, high school or college your graduation day is the time when you celebrate all your educational achievements and mark your transition into the next stage of your life.
It is a time when parents can express how proud they are of the person you have become. A good way to express their pride is to host a graduation party where family and friends can honor you!
Graduation Party, Invitation & Gift Ideas
As one of the major events in anyone's life, your graduation will be a day to remember.

How do you celebrate it and where do you move on from here?
Graduation Parties
Graduation parties are a great way to celebrate real success, and so they deserve to have a huge amount of preparation time put into them.
Party planning is so much fun, as you discuss different graduation cake styles & ideas and choose who should make the decorated graduation cookies.
Perhaps its best to start with a theme; will it be black tie or something a little more exciting? How about a beach theme, or an 'officials' theme? How about theming it around where your graduate is going to college and what they are studying/have studied? Elementary graduation themes might be kings and queens or even retro party games; make sure its something that all the parents will enjoy.
If the graduates are aged between 14 and 19 steer clear of theming it too much, as this could be embarrassing if the kids haven't chosen it themselves. Instead choose a "theme" that requires the girls to wear nice dresses and the boys to wear suits.
Once you work out your theme, you should decide on a location and a date. You might choose to have a small family party at home on a Saturday, but how about doing a huge party for your entire class at your local country club/hotel on a Friday evening? Make sure that wherever and whenever you choose, it is going to be a memorable place and time.
Now you have decided on a theme, location and a time, you need to think of interesting ideas to entertain your guests, and great decoration ideas.
Graduation Party Decorations Ideas
Big celebrations are nothing without a little creative decoration!

When making any graduation centrepiece, think about making it inspirational but also with an element of pride. For example, have a photo of the graduate as a centrepiece, perhaps their face framed in a star.

Use the school/college colours to theme the decoration, choosing tablecloths and napkins to match. But don't go too overboard; find another complimentary colour to add in so the party is super colorful.

Be careful when decorating for teens, try not to be too 'cool' . Instead think of how you would decorate a party for people four years older than them, as this is likely to be the most appropriate style for them.
Graduation Party Invitations
First work out who to invite, the entire class, family and friends of the graduate may want to come, but who does the graduate want at their party?

When designing invitations, why not use the school crest and using Class Of… on the front. Use elegant black and white, with perhaps a bit of gold. Make them look grown-up and official. Seal them nicely before sending them off with a chic gold envelope seal.

For funny graduation party invitations, why not take a funny face photo of the graduate, and put that right on the front of the invite. Or add a silly quote from the graduate themselves.

Graduation invitation etiquette says that everyone who has had any influence on the graduate's learning ought to be at the occasion to celebrate.

You can find a sample of a graduation invitation on the internet, through most popular search engines.
Graduation Party Food or Menu
You can either choose to cater for yourselves, get guests to bring dishes or hire in some caterers . This will totally depend on how much money and time you have available.

Hog roasts, barbecues, buffets and sit down meals all take some planning, so do prepare in advance. Work out which your graduand would prefer, as it is important that they have a great time.
Graduation Party Cakes
How about trying to make a cake shaped like a mortarboard or a pile of study books. These will take practice but look very special on the day.

Or you could decorate a regular sponge with the year of graduation, a photo and lots of long-stemmed wire stars.

College graduation cakes could have the college colors on it, or a representation of the subjects that the graduate(s) studied.

If you really aren't confident enough to make something, try the local baker or Google cake makers in your local area.
Graduation Party - Games & Activities
Planning out games and activities can be a little tricky to start with, but there are plenty of themed ideas. It will also depend on the age of children graduating, for example, a graduation program for kindergarten will be slightly different from a university graduation party.

You could have toasts and speeches made to the graduate(s) and family members. Follow this with some giant inflatable games, face painting and a board games corner. Try to make the games childish if the décor is adult, and the décor childish if the games are adult. This will give the graduate a sense of nostalgia and progression, which is a huge part of the graduating ceremony.

You might choose to say a graduation welcome address to open the occasion, but make sure its short and sweet and to the point. Declare how proud you are of the graduate(s) and all that they have achieved. Reflect on any achievements that they and their classmates or school class have made, then offer your congratulations to them and wish them well for the future.
Finding Appropriate Graduation Gifts
Many people struggle to know what to buy and also what sort of money to spend on a gift.

The key is to make the gift something lasting, something they can use in further study, or in retrospect, this makes your budget less important and your ideas and thought more relevant.

Inexpensive Christian graduation gifts could be a simple crucifix, or a miniature bible that the graduate can have for the rest of their lives.

Graduation pre-school gifts might be stationery for use in future education, like pens, books and papers. Make sure its practical and intelligent, let the graduate know you listen to them by buying them something personal.

Whether graduating from school or college, its important to mark the occasion with a well planned celebration.

Create your own ideas and decorations for a more personalized touch to the event. Preschool graduation ideas are such fun to think of, you could do an animal theme, and have all the food based around animals, as well as the decoration.

Have a planning checklist, and tick off everything you have bought in preparing for the event, and then tick it off again when its put out on the day.

As free party favors why not give Class Of… pencils to each high school graduate as these can be used in remembrance of the special occasion.
More Graduation Gift Ideas
It is important to choose a gift that is appropriate for the age group. Also take in to consideration how much you want to spend. Multiply the budget by the number of children you have as you will have to treat them all equally. It can become very expensive on top of college education costs.
Money
Book 'Oh The Places You'll Go'- Dr Seuss
Ipod
Ipad
Laptop Computer
Commemorative Coins
Hope Chest
Digital Camera
College Spirit Gift
High Quality Ink Pen
Leather Briefcase
Mini Vacation Package
Reference Books
Smart Phone
Stocks or Savings Bonds
Furniture
Framed Art
Membership to a Fitness Program
Enrolement in a hobby course, painting, guitar lessons, stained glass sessions
Graduation Resources:
GPA Calculator - fastest way to calculate your high school or college grade point average
Hairstyles for Graduation - create the perfect formal hair style for your special day
Graduation Party Games & Ideas - easy to use list of games to play for all ages