Wedding Invitation Ideas
A wedding invitation arriving through the door is the first many people may know of your wedding plans.
Setting the right tone and atmosphere is important, as is linking in with any theme that you are having through the wedding day itself.
When you are wedding planning, your wedding invitations are incredibly important as they are the first thing that your guests will see of your wedding and the themes that will run throughout the whole of your most special of days. There are lots of companies that will print your invitations for you, along with response cards and place cards of the same design. However, these tend to be rather generic and not as personal. To make your invitations truly unique making your own can often be the answer, a part from anything else they are a lot cheaper.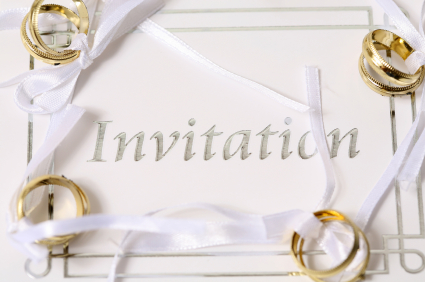 You can order packs for making your own wedding stationary, these packs usual contain card, ready printed inserts and some sort of decoration. Due to the nature of the packs they are not that time consume and make your invitations a little more individual. There is no way of making your invitations free, short of getting a relative in the business doing it for you, however this way can certainly cut costs.
Why Not Make Your Own Wedding Invitation?
If you had even more time on your hands and wanted to make your invitations more personal, you could make your own without using the packs, and make your own signature collection.
By finding your own wedding paper, you can use art work and more colours than you would not usually find in the pre-made packs.
Wedding Invitation Templates
If you do wish make your own invites completely from scratch, the hardest thing to decide is the wording. The traditional wording is thus:
Request the pleasure of your company

At the marriage of their daughter
(Bride's name)
to
(Groom's name)
on (date)
at (time)
(location)

And afterwards at

RSVP

Please use the enclosed reply card, Telephone,
or email
This is, of course, only one way of wording the inserts, you can play around with the words and phrases. Traditionally speaking, it is the parents of the bride who are inviting the guests which is why during the speeches it is the father of the bride who thanks the guests for coming, as they are the ones who are supposed to be paying. In this day and age and more brides and grooms marrying later and so are paying for their own weddings, as a result of, there is no reason why it should not be them inviting their guests in which case you'd need more creative wording for the wedding invitations and so instead would need phrases like 'request the pleasure of your company at our wedding'. This means that if you decide to use reply cards they would go to the bride or groom's address instead of the parent's.
Reply cards are not essential but a very good idea as they make it easy for guests to RSVP to your wedding, which many guests are not very good at doing!
Usually they have the address which it is going to be sent, and on the other side:
Reply from:



I/We would be delighted to attend

Sadly, I/We will be unable to attend
A point to note, is that if you give a guest a plus one and they use the reply card make sure they tell you if they are using their plus one or not, this means that your numbers are accurate and you are not chasing up guests about their plus ones.
If you plan to hold a bridal shower, or your bridesmaid's wish to throw one for you, it can give lovely continuity if the invitations for it continue on the same theme. Big companies which print your invitations for you, do not tend to do bridal shower invitations in the same style, meaning that you'd have to use a different design invitation. This is where making your own invitations has its beautify for continuity is not a problem.
If your reception is in a different venue to your service then reception card directions could also be done in your design.
Once your invitations are complete you then have to decide when to send them out. It is important not to send them out too early or your guest may forget closer to the date, and some couples send reminder cards. If you have a large number of people coming then this can be unnecessarily costly. Most couples send their invitations out about two months before the date. However, if you have a summer wedding you may wish to send them out earlier as your guests may need to save the date and book holiday's off or have other weddings to go to, as it is the season of weddings in the summer.
Related Wedding Pages
Personalize Your Wedding Invitations
If you are ordering wedding invitations to be printed , it's still possible to customize them by choosing your own verses, poems or writing your own creative wording .
In a hurry or don't have time to go to the shops ? It's perfectly possible to choose your designs , personalized the wording and order your wedding invitations online - simply viewing and approving the completed template, before completing purchase and payment.
For a more informal idea, people are increasingly sending "save the date" cards before the actual invitations go out - however, you could just send these, together with information on the wedding venue, hotel and reception.
Creative Wording for Wedding Invitations
This is your option to really make it your own - whether it's with the wording inside or the addition of verses of poetry, a favorite quote or thought.
Although etiquette dictates certain things that you need to include in each invitation, you can put your own stamp on them by creative choosing of images or pictures that reflect your own personal taste.
Here's a sample of a typical wedding invitation wording:-
Mr & Mrs Carter
request the pleasure of your company
at the marriage of their daughter
Melissa Carter
to
Blake Forrest
at Porton Chapel
on Saturday 13th August
at 2 p.m.
and afterwards at
The White Hart hotel

RSVP
The Manor
Yatton Keynell
Chippenham
You can find a good range of wording examples and samples for every family situation, including divorced or deceased parents, the bride and groom hosting their own wedding or reception, and some more informal invitation wordings at Wedding Guide UK.
If you would like to add something special, you can find some ideas for wedding invitation verses & poems at Poem4today.com
Want to make your own wedding invitation?
If you're technologically minded, you can create a custom printable design online - this can be a very affordable option for couples on a budget, whilst not compromising on quality or design . See our Recommended Resources below.
Using Microsoft Office Word or Publisher, you can also create some attractive invitations. Although it's possible to find some specially designed wedding text fonts, both Word and Publisher have some fonts which
If you want to add in photos, you can download a range of photographs at IStockPhoto for a very reasonable cost, which will keep your invitations legal too!
Wedding text fonts - using Word
cheap / blank / do it yourself / wedding invitation kit / customize on a budget / custom
theme , beach, own, free, , make , yourself, templates, unique , cheap, creative, discount, etiquette, handmade, homemade, examples , announcement , etiquette , design , precious moments print your own kit , correct wording , free w.i. to print out , free printable wedding invitations
Wedding Resources
Free printable wedding invitation templates - some beautiful designs where you can add your own text or additional wording, poem or verse
Free wedding text fonts - download free to use fonts