Funeral Flowers
Sending a floral tribute is a conventional way of expressing one's sympathy with the family who have lost a loved one.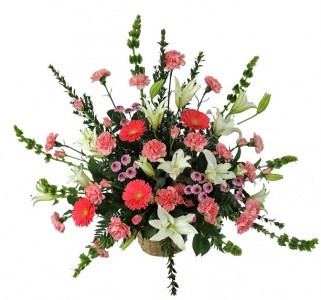 It's now possible to order funeral flowers online - choosing from the conventional wreath, to sprays and baskets.
Or you can visit your local florists who will be able to offer advice and work with you on creating a memorable flower arrangement within your budget.
Funeral Flowers
By Ken Marlborough
Comforting a grieving family is never an easy task and people often feel quite helpless at being unable to do the right thing. Fortunately, flowers are a good way to condole one's loss and are sent to the funeral home for display during the viewing and service.
In the first couple of decades of the last century, funeral flower arrangements were usually large, sweet-smelling badges shaped as hearts, crosses and logos of organizations. For example, a Rotarian would take along a wreath in the form of a broken wheel to a fellow Rotarian's funeral. From 1970, this practice gave way to customized funeral flower arrangements that depict the deceased's profession, such as anchors for seamen.
The various kinds of funeral flower arrangements include the wreath, which is a circular floral arrangement of flowers and greens; people believe that its shape symbolizes eternal life. The floral stand is another type of arrangement. It is visible only from one side and is placed on a stand and can be ordered in a choice of up to three tiers. A cross-shaped arrangement symbolizes the deceased's faith in Christianity. The family of the deceased usually orders an arrangement called a casket spray for the top of the casket. If a child dies, floral arrangements in the shapes of angels, bunnies, bears, or other objects are done in white with leafy trimming.
Once the funeral service is over and the grieving family begins to cope with their loss, it is completely in order for you to comfort them with flowers or a plant that shows that they can count on you for support.
Traditionally, white flowers are used. Chrysanthemums, roses in red, white, yellow and pink, white lilies and carnations are the flowers of choice.
You can order fresh flowers, chocolates, & gift baskets at Flowers Online .
If you're still wondering just what to choose look at these photographs below to get an idea of the shapes & colors that are popular at present ....
Pictures of Funeral Flower Arrangements
- to give you ideas for colour, shape & size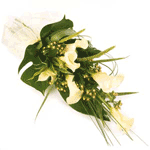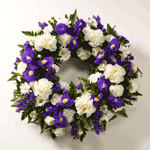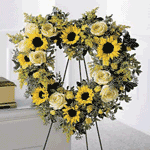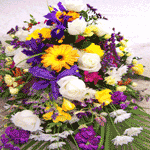 Dead people receive more flowers than the living ones because regret is stronger than gratitude. ~ Anne Frank
Thanks for visiting , I hope you found some ideas for a funeral flower arrangement.