Planning A Retirement Party?
Retirement is a great reason to throw a party!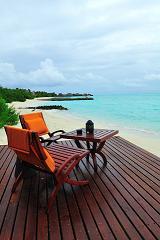 It's an opportunity to honor the person who is finally going to be able to relax after a lifetime of hard work, so you'll need a little more than cake and balloons.
Obviously, the retirement party is all about the person who is retiring. By focusing on the hobbies and accomplishments of that person, it's easy to come up with great retirement party ideas.
Retirement Party Ideas
Hobbies
Perhaps he is a car buff or maybe she is a long distance runner. Whatever the person's hobbies, it is fun to try and create a party around that theme. For example, for the car buff, you could order a cake shaped like his favorite car and ensure that all the decorations center around that theme.
Celebrate Their Career
Another idea is to focus the party on the accomplishments of the retiree. This could be done in a variety of ways. One idea is to create a PowerPoint presentation of the person working throughout the years. If any awards were won, those should be displayed, or at least mentioned.
If the person retiring is some type of service field, such as a teacher or a nurse, it would be a great retirement party idea for you to get some of the people whose lives they had touched to be present at the party.
Retirement Plans
If you know the future plans of the retiree, using that information as a basis for the celebration is a wonderful retirement party idea. For example, if he or she is going on a cruise, you could have a Bon Voyage party. If they plan to hit the road in an RV, then you could have a Route 66 themed party.
The ideas for themes are limited only by your imagination. Of course, you can mix and match the ideas in order to create the party that is perfect for the honoree.
The most important thing to keep in mind when planning a retirement party is the person being honored. Here are some other ideas for making the party memorable.
Invite A Surprise Retirement Party Guest!
Perhaps you could arrange for out of town relatives or former co-workers to fly in for the party. If the party is being held by co-workers, try to make on the sly arrangements with his family to show up unannounced.
Retirement Gift Ideas
Finding a way to showcase some of the person's best work over his or her career is always a good idea as is presenting them with some memento, such as a video or a scrapbook of sorts.
The retirement party should be about celebrating past accomplishments as well as future goals.
The more you can learn about the person being honored, the more personal – and special – you'll be able to make the retirement party.
Thanks for visiting Special Moments, I hope you found everything you are looking for on retirement ideas.