Contemporary Wedding Vows
Choosing between traditional & contemporary vows for your wedding?
If your cake was from your own recipe, the guests are being treated to a playlist you put together yourself, then you might ask yourselves why your wedding vows should be the 'same old, same old'?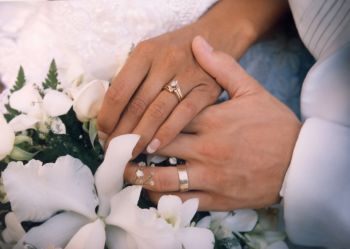 Creating a unique set of contemporary, modern wedding vows is a wonderful way to sprinkle some personality into your wedding-day mix!
Do you want your ceremony to be especially memorable to your partner, and your guests?

Creating an unforgettable, modern-day set of vows could be just the ticket.

Be sure to check with your clergy or officiator before doing anything too wild! Here are a few ideas to get you started:
Geographical Wedding Vows:
Use a combination of nature, special memories, and the inspiration of the world around you to conjure up your vows.
For example, "We climbed a mountain together and I knew it would not be the last. You took me to the ocean and I knew we would swim together forever."
Getting married on a beach? Make reference to it! Use the places you have been to create vows that will stay in your hearts forever – no matter where you travel together!
Funny Wedding Vows:
Maybe you want to lighten the mood a little.
Perhaps your future wife is famous for her sense of humor, or your hubby to be is known for his practical joke antics. While wedding vows are indeed serious, a little well-placed humor can relax your guests and create a wonderful memory.
Try a funny quip, such as "I promise to always be there for you – even when you leave your stinky socks on the sofa!" You and your partner may even come up with a funny shtick to do before completing your actual vows – be creative!
Of course, making light of your wedding vows could be frowned upon if done in poor taste, so be sure to stay serious when you look into your partner's eyes and make your commitment. There will be plenty more time for fun and games down the road!
Related Wedding Links:
Wedding Vows
May we forever be lovers,
May we forever be friends,
And should we hurt each other,
May we quickly make amends.

May we enjoy our passion,
But never let compassion die,
Thinking in selfless terms as we,
Never emphasising I.

May we forever be soul-mates,
May our love eternally last,
May the food of love sustain us,
May we never have to fast.

May we use each other's strengths,
When we are feeling weak,
May we both learn to compromise,
And always as one voice speak.

May we never keep dark secrets,
May we never tell each other lies,
May we both work unceasingly,
To ensure our love never dies.

~ Clive Blake
Unusual Wedding Vows:
Maybe you love to sing. Perhaps your fiancé plays an instrument. You may want to add to your vows by breaking out in song.
If you are having an informal outdoor ceremony, a duet would be a beautiful way to commemorate your vows, making your words lyrics to a love song neither of you will ever forget! If singing is a little much for you, maybe a set of rhyming vows would be more up your alley.
As always, be sure that if you are doing something as different as singing your vows, that you have checked with the person who will be performing your ceremony!
Modern Wedding Vows:
If traditional wedding vows sound too archaic for you, maybe you wish to convey a more contemporary message. Instead of promising to obey your future husband, you may want to promise to be a partner to him.
Focusing on current elements of a relationship, such as friendship and partnership may make your vows more realistic and easier to identify with. If one, or both of you, has children, you may wish to include them in the vows as well.
Almost-Traditional Wedding Vows:
Maybe you find that traditional wedding vows are too traditional – but don't want anything too wild either.
You may wish to incorporate traditional wedding vows into your ceremony, but with a slight twist. This could mean changing the wording slightly to reflect your relationship, or adding a few sentences to personalize the vows. Your officiator will be able to help you with this task.
Once again, depending on your denomination and religion, you may have varying amounts of sway with changing the traditional vows!
Unique Wedding Vows:
We've all heard of couples who exchanged vows while sky diving!
You may not love heights, but you could certainly consider a unique setting for your vow exchange. You may wish to exchange vows in a private ceremony, then celebrate with family and friends later.
Did you meet at a coffee shop? Was your first date at a local fish fry? Did he propose on a canoe trip? Any special moment can be commemorated by exchanging vows in a special place – just as long as you can find an officiator and a couple of witnesses who will participate!
Remember that your wedding vows are an important part of the ceremony itself.
Honoring your love by articulating it verbally is a wonderful thing.
Choosing to write your own wedding vows can be a daunting task, but say what's in your heart and you can't go wrong!