30th Birthday Celebrations
Born in 1989?
Creative 30th Birthday Ideas
If the big 3-0 is around the corner, it is time to celebrate!
Gone are the days of pubcrawls and wild bar nights. For your thirtieth birthday celebration, plan on doing something you'll remember forever. It's time to raise the bar!
Grab Some Friends and Travel for Your 30th Birthday!
If you've always wanted to visit Europe before you hit thirty, now is the time!
Or, maybe now that you are saying goodbye to your late twenties, you and your friends have a bit of extra cash. Maybe it's time to take a group trip!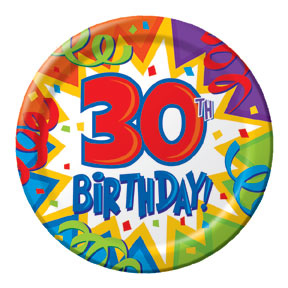 There are great destinations for a birthday party entourage right in the States – think Las Vegas or New Orleans if you like to let loose and have some drinks to celebrate! If you're more of a nature junkie, hit the slopes in Colorado or go on an expedition in Utah.
The possibilities are truly endless, and getting away for a weekend with your friends will be a great way for everyone to celebrate!
Try Something New for Your Thirtieth
Turning thirty is a great time to learn a new hobby. There are probably loads of things you can try right at home.
Sign up for dance lessons, or spend a few days learning to rock climb with a partner or solo. Maybe you've always wanted to learn to knit. Setting a goal of learning a new skill is a great way to take advantage of a birthday!
Or, maybe it's time for a thrill! Consider trying something you're a little afraid of, such as bungee jumping, sky diving, or a scuba adventure.
You'll start your thirties off on the right track as you take on a new pastime.
30th Birthday, What's Cookin'
Now that you've entered your thirties, why not host your first real dinner party?
If you love to cook and entertain, hosting a dinner party can be a fun way to celebrate (plus it's easier on the budget than going out for dinner!) Invite three to four couples over and plan out a menu.
Spend your birthday cooking up a storm and treat your guests to a proper sit down dinner. Don't forget a few fancy appetizers to whet your guests' palates. Appetizers can be easy to prepare and will leave a lasting impression – think fancy crackers piled with cheese, gourmet spreads and dips, and smoked salmon canapés.
Not one for spending the day in the kitchen on your birthday? Stick to wine and cheese – its classy and simple! Choose a selection of cheeses that have different textures and flavours, such as brie, aged cheddar, parmesan, and Gouda. For an extra special touch, hire a sommelier to guide you and your guests through a wine tasting.
Throw a 30th Birthday Surprise Bash
If your significant other or a close friend is turning thirty this year, why not surprise them with a party?
Make it a night they will never forget by inviting their friends and coworkers to your home or to a restaurant to surprise the birthday boy or girl! Make it extra special by hanging blown up photos of the guest of honour around the room – from baby years to present day.
You can even add in trivia games or funny speeches to truly make it a memorable evening.
A Quiet Night In to Celebrate Your 30th Birthday
Maybe for you, turning thirty signifies growing up!
Leave the wild nights of your twenties behind by planning romantic dinner for two at a favourite restaurant.
Make reservations in advance, put on your fanciest shoes and enjoy a fun night out for two. Order a bottle of champagne and toast to all the wonderful things to come in the next decade!
Celebrate Your 30th Birthday with Style!
Turning thirty is a big birthday and deserves a real celebration! Start planning in advance to make it a celebration you will never forget.
Don't worry that your twenties are over – after all, thirty is the new twenty!
Happy Birthday!
Family Celebration Resources
Planning a 30th? Check out our Birthday Ideas


More Great Party Ideas