Wedding Reception Ideas
Wedding Reception Timeline
It is traditional for the bride and groom to arrive first at the wedding reception, followed by the bridesmaids & best man, and the bride's & grooms' mother & father.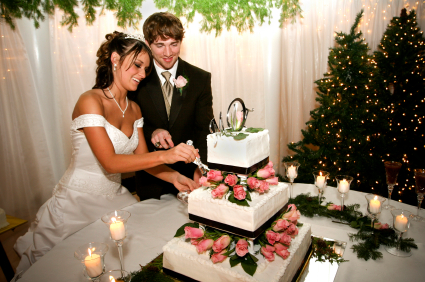 Although a receiving line is traditional, you may choose to have something more informal, as it can be quite time-consuming.
However, it does give you a chance to greet all your guests personally - but to keep it brief you may consider having only the bride and groom welcoming guests.
The choice of meal is as wide as the choice of caterers and this will be a matter of your personal choice. Of course, one big decision is whether you wish to have a sit-down meal or a buffet, this may be constrained or informed by the cost of each.
Wedding speeches
and
wedding toasts
usually take place after the meal is finished.
Traditionally the bride's father and the best man are expected to make a speech, however brief.
The
wedding cake
is then cut and served to the assembled guests.
Following the reception, the bride and groom depart for their honeymoon and the guests will gradually disperse.
The Perfect Wedding Reception Venue
Choosing the perfect Wedding Reception Venue is half the battle in planning your wedding, it is the place that you will spend the majority of your wedding and, in most cases, will be the background of your photographs. These ideas can also be used for a post wedding reception, if the bride and groom wish to hold another event for a wider selection of friends and family after their actual wedding.
If you are more of a city person there are some amazing venues which are available in places such as New York or even greater London. In New York you can hire places like Gotham Hall or more unusual places such as Banchet Flowers. It may seem strange to hold your reception in a florist, but it is a beautiful venue and can seat up to 125 guests, and of course will already be covered in ready made flowery decorations!
To go further a field, greater London has some lovely spacious places for you to hold your reception. There are so many in the city, just to name a few the Hendon Hall Hotel in Hendon, is simply stunning. Another is Middle Temple, a 14th Century building in the centre of London which is one of the most elegant places you could hold a Wedding.
If you do not wish to use such extravagant surroundings, that does not mean your venue can't be just as beautiful or special. Sometimes the most simple of ideas can bring originality and class to your reception. Some couples have simply hired a field, and marquee and bought a lot of fairy lights; these sorts of ideas often turn out to be the best and most personalized.
Related Wedding Links
Wedding Reception Decorating Ideas
The decoration of the room can make all the difference in a plain building. This is where your table decorations, and flower arrangements can make all the difference. The use of favour boxes can also enhance your theme and decoration on your tables. These decorations do not have to be extravagant or particularly expensive. By adding different coloured fabrics and a few unusual flowers on your tables, you have something more unique than any hotel could ever give you. However, unlike a hotel, you will have to do most if not all the setting up, in these cases it is always an idea to enlist the help of some strong men of your families and friends for the lifting and shifting.
If your venue does have attractive grounds, then do not be afraid to use that, so here are some outdoor decorating ideas. Look for any kind of piece of interest and try to enhance it by decorating with light. The light can come in different formats: fairy lights, candles, torches, lanterns or lamps. Be careful of over crowding, keeping it simple can make the most of what you have if you have a smaller area to work with.
Other wedding reception ideas for the outdoors is the use of games. Some couples hire anything from giant chess boards to bouncy castles. These touches can make your day more memorable, plus it give your guests something to do while waiting for the photographs to finish or if they are tired of dancing the night away!
Indoor or Outdoor Venue
If you are going to go outside, the weather and time of year has to be taken into account. If the season is likely to have strong winds, then candles are not for you, or the sun does not set until very late, then using lights will not be fully appreciated and other forms of decorations such as topiary may look better. Moreover, with winter weddings it is often better not to brave the outside as you can not predict what the weather will be like, but if you do have a place with gorgeous gardens, a contingency plan that involves an outdoor alternative might be a good idea, just in case you get to your wedding day and it is a beautiful day and it would seem a shame not to go outside.
Wedding Cake Ideas
Your wedding cake is another little component that adds just that little something to your venue. A tip here is: less is more; after your guests have feasted they frequently do not eat the cake, so to stop eating cake forever after your wedding it might be better to get a cake smaller than your guest numbers. Traditionally, fruit cake is eaten in these circumstances; however, many couples choose a sponge filling. If you do wish to have a sponge cake this will mean that you can not have the pillared tiers, instead bakers will put the layers directly on top of one other.
Wedding Reception Centerpiece Ideas
Centre pieces are absolutely essential to finish off your reception venue. It is important that the piece matches the theme and colour of the rest of your wedding. Each bride has her own style and the centre pieces are the perfect place to show your individuality.
Table shape and size often will dictate what your piece will look like. When using small round tables, mirrors can be effective especially in conjunction with floating candles. If you do not feel mirrors would suit your style then other materials can prove to look just as good such as slate and tin. There are many other ways to use candles on your tables, you can get round glass bowls where flowers sit low and the candle sits in its own holder; this is just one example of how to use candles and flowers effectively.
Flowers do not only have to be mixed with candles. Coloured beads in the bottom of the vases not only look attractive but can make flowers with short stems look taller and make more of an impact.
When looking at long tables with garlands getting the right size and shape is important. If the garland is too small then it will not make enough of a statement, but too big and your guests will not be see each other across the table!
Another factor which will change your centrepiece ideas is the season that your wedding takes place in. It is often hard to find originality in the summer months as this is when most weddings are held. Having said this placing flowers in unusual receptacles such as flower pots and using single flower holders placing them in different places on the tables are two attractive possibilities.
During winter, many flowers are no longer available, so you could use resources in your own back yard such as pine cones. Something less traditional and also available all year round is topiary; it can be fashioned into many different shapes, sizes and styles and can bring a little originality to your wedding decor. It also can be used as a special garland for the top wedding table centrepiece. For an even more unusual idea is using ice sculptures, they can give an idea of a winter wonderland for your special day.
For any season coloured fabric slips and runners can add interest to your table decorations. If your theme is red, then white table cloths and a red slip underneath your centre piece will look gorgeous. For something even more original instead of using a plain slip, patterned art deco fabrics can also look very effective.
Wedding Favor Ideas
Other decorations are wedding favors. Traditionally speaking you have sugared almonds; now you can have anything from hand made chocolate bride and grooms to wedding cake topper bubbles! There are so many options you have to think carefully what would suit your theme best. However, not everyone has them as they often can be quite expensive and many guests leave them behind.
One of the best places to get more ideas of what to do with your tables is wedding fairs. They will often have tables made up with colors and flowers that will get your imagination going. These sample tables are also good to get the idea of what all the components will look like together, also how much space there is on a particular size or shape table so you can get a better idea as to how big your centre pieces can be.
Here is a cute idea for decorating the wedding venue which gives your guests an opportunity to create some memories of your special day. You will be suprised how creative some people can be and it will make a wonderful memento of your wedding day that you can enjoy over and over again
Wedding Wish Tree
Here stands are wedding wish tree,
Though it looks a little bare,
But it would look so pretty,
With the thoughts you want to share.

So please pick up a pen and write
A joke, an note, a quote,
Then tie it to the branches
And watch the wishes float.

When the day is over
We can't wait to have a look,
We will keep the little labels
In ou Wedding Wish Tree book.

And in the years that follow
We will remember on this day,
All your thoughts, and words so kind,
And in our hearts you'll stay.