21st Birthday Wishes!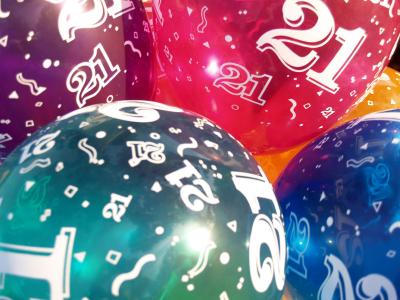 It's finally here – the birthday you've been waiting for!
Turning twenty one is a real milestone birthday – so get ready to celebrate!
This is one of your biggest birthday celebrations ever, and for many it marks the beginning of adulthood. It's time to gather up some friends and have a night you'll always remember!
Twenty First Birthday Celebration Ideas
Turning 21 means you are of legal drinking age in the United States. You can go out with your friends and not worry about being turned away at a bar because you are underage. Don't forget to take your ID with you though as you are still likely to get carded when you visit the bars.
Make sure you drink responsibly and plan ahead of time how you are going to get home. You have a number of choices. Perhaps, as it is such a momentous occasion, you can order a limo, take a taxi, arrange a pick up from your parents or ask one of your friends to be the designated driver.
One Drink Per Bar
There are probably tons of local places you've been dying to try – not to mention all those different types of cocktails and drinks! Get a bunch of friends together and have a night of "one hit wonders." Map out a route before hand, and make a rule where you can only order one drink at each bar before moving on to the next. If you're really organized, have some pub crawl t-shirts printed up, and bring some markers along to personalize them throughout the night. Be sure to include some risqué-named drinks on your tour – there's nothing like ordering a "Sex on the Beach" for the first time!
Wings & Beer
If you're more into watching the big game than hitting the local club scene, consider making an afternoon of it!
Meet friends at a local sports bar or pub to watch a soccer, hockey, or football game on a Sunday afternoon. Sit back and relax as you accompany your orders of nachos and wings with a variety of beer!
If there's a big sports event or concert going on, you might want to check that out as well! Visiting a local brewery is also a great way to relax and get to know your (now legal) beverage of choice.
Wine & Shine
If you're not into going out drinking, why not celebrate at home with your boyfriend or girlfriend?
First things first – head to the liquor store and pick out a bottle of wine, then pay for it showing off your now-legal ID! Not sure how to choose a bottle? It's time to start learning! A general rule is to pair reds with meat, and whites with fish or poultry.
You may wish to pick up a book about wine to start learning about this decadent drink. Like what you taste? Consider signing up for a local sommelier course. Want to step it up another notch? Visit wine country, such as Martha's Vineyard or Napa Valley!
21st Birthday - Go Big or Go Home!
If you want to celebrate your 21st birthday in a way you'll never forget, plan a trip to Las Vegas. Go in style and rent a limo!
Undoubtedly, you'll want to celebrate the end of your teenage years by visiting some of the hottest clubs and casinos. Be sure to check out some other attractions as well, such as going for a helicopter ride or going on a dune buggy expedition.
If you're the first of your friends to turn the big 2-1, you may need to wait a few months until you have some pals who can join in on the fun!
21st Birthday Ideas for the Non Drinker
If you're not a drinker, turning twenty-one is still a special birthday. Get out there and celebrate!
Consider hosting a family BBQ, or spend the day doing something you love, such as skiing or hiking.
Indulge yourself by booking a special spa treatment, or buying yourself a special gift you've been coveting. Enjoy a big piece of birthday cake, and celebrate with your loved ones.
Twenty First Birthday Gift Ideas
Many 21 year olds want to celebrate reaching the legal drinking age by partying with their friends at a bar or nightclub. We don't want to encourage excessive drinking, however, a 21st birthday gift along these lines may be appreciated, but you can be more creative than simply showing up with a case of beer!. Bar supplies, a cocktail shaker, liqueur and shot glasses will get the party started.
Consider giving a nice set of wine or martini glasses, a fancy bottle opener, or a gift certificate to a local fine dining establishment.
The twenty first birthday is a major milestone in a person's life. This birthday is a great opportunity to celebrate by giving the young man or woman a memorable gift that recognizes their transition into adulthood.
It's important to mark and celebrate it in an appropriate way. Birthday gifts should be meaningful but fun.
The traditional gift for a 21st birthday is silver. Base your choice of gift on their personality and interests as well as your budget.
Here are a few birthday gift ideas that will start the ball rolling and perhaps you can think of more 21st birthday gift ideas.
Gift Cards
Jewellry
Fragrances
Technology
Video Games
Sports Equipment
Upgraded Furniture
Photo Shoot
21 Gifts
Set of Luggage
Pearl Necklace
Silver Flask
Enjoy Your 21st Birthday Festivities Responsibly!
Be sure to enjoy responsibly – and start off on the right track by vowing to never drink and drive.
Regardless of how you choose to spend your 21st birthday, it is certainly a milestone because you are now "officially" an adult.
Birthday Resources