Funeral Poems
Funeral poems can express our innermost thoughts and feelings at a time when the right words can be hard to find. You may wish to include one of these in your funeral program or memorial handout.
You will be sure to find a poem suitable to read at a funeral and we shall shortly be adding a beautiful Irish funeral blessing too.
Funeral Poem: I Felt An Angel
I felt an angel near today, though one I could not see
I felt an angel oh so close, sent to comfort me
I felt an angel's kiss, soft upon my cheek
And oh, without a single word of caring did it speak
I felt an angel's loving touch, soft upon my heart
And with that touch, I felt the pain and hurt within depart
I felt an angel's tepid tears, fall softly next to mine
And knew that as those tears did dry a new day would be mine
I felt an angel's silken wings enfold me with pure love
And felt a strength within me grow, a strength sent from above
I felt an angel oh so close, though one I could not see
I felt an angel near today, sent to comfort me.

~ Anonymous
"Remembered Joy" An Irish Funeral Poem
Don't grieve for me, for now I'm free!
I follow the plan God laid for me.
I saw His face, I heard His call,
I took His hand and left it all...
I could not stay another day,
To love, to laugh, to work or play;
Tasks left undone must stay that way.
And if my parting has left a void,
Then fill it with remembered joy.
A friendship shared, a laugh, a kiss...
Ah yes, these things I, too, shall miss.
My life's been full, I've savoured much:
Good times, good friends, a loved one's touch.
Perhaps my time seemed all too brief--
Don't shorten yours with undue grief.
Be not burdened with tears of sorrow,
Enjoy the sunshine of the morrow.
In the film Four Weddings and a Funeral, the use of the poem "Funeral Blues" was very powerful and moving.
Funeral Poem
If I could write from Heaven
this is what I'd say,
Please don't miss me too much,
I'm with you throughout your day.
You may not see or hear me,
but if you're quiet and still,
You may just feel my presence;
because, in Heaven, there is free will.
Don't worry for the day,
it will come and go as planned,
Enjoy each moment you are given,
keep worry from your hand.
Keep sorrow to a minimum;
For if Heaven you could see,
You'd know I'm safe and happy,
I did not cease to be.
Moments in time are brief,
until we'll be together again,
Eternity lasts forever,
our lives, they have no end.
Funeral Related Links:
But Not Forgotten
I think, no matter where you stray
That I shall go with you a way.
Though you may wander sweeter lands,
You will not forget my hands,
Nor yet the way I held my head
Nor the tremulous things I said.
You will still see me, small and white
And smiling, in the secret night,
And feel my arms about you when
The day comes fluttering back again.
I think, no matter where you be,
You'll hold me in your memory
And keep my image there without me,
By telling later loves about me.

Dorothy Parker
The next two funeral poems were read at Lady Diana's Funeral by her sisters Lady Sarah McCorquodale and Lady Jane Fellowes
Turn Again To Life
If I should die and leave you here a while,
Be not like others, sore undone, who keep
Long vigils by the silent dust, and weep.
For my sake - turn again to life and smile,
Nerving thy heart and trembling hand to do
Something to comfort other hearts than thine.
Complete those unfinished tasks of mine
And I, purchance, may therein comfort you.

~ Mary Lee Hall
For Katrina's Sun Dial
Time is too slow for those who wait,
Too swift for those who fear,
Too long for those who grieve,
Too short for those who rejoice,
But for those who love, time is Eternity.

~ Henry Van Dyke
Condolences
They say I'm sorry for your loss.
They say your heart will mend.
They say you're in a better place
and death is not the end.

They say you're reunited
with loved ones gone before.
They say that you'll be waiting
when I walk through heaven's door.

You will feel their love in every word
of comfort they impart
and know that each is spoken
from deep within the heart.

But all the words of comfort,
though kind, sincere, and true,
can't take away the emptiness
Your feeling without _________.
Funeral Poem: A Letter From Heaven
When tomorrow starts without me,
and I'm not here to see,
If the sun should rise and find your
eyes, filled with tears for me.

I wish so much you wouldn't cry,
the way you did today,
While thinking of the many things,
we didn't get to say.

I know how much you love me,
as much as I love you,
And each time you think of me,
I know you'll miss me too.

When tomorrow starts without me,
don't think we're far apart,
for every time you think of me,
I'm right there in your heart.
Poems for Funerals
Remembering Me
To the living, I am gone
To the sorrowful, I will never return
To the angry, I was cheated
But to the happy, I am at peace
And to the faithful, I have never left
I cannot speak, but I can listen
I cannot be seen, but I can be heard
So as you stand upon the shore
Gazing at the beautiful sea, remember me
As you look in awe at a mighty forest
And in its grand majesty, remember me
Remember me in your hearts,
In your thoughts, and the memories of the
Times we loved, the times we cried,
the battle we fought and the times we laughed
For if you always think of me,
I will never have gone.

Anonymous
Funeral Poem: "Family o'Mine"
Family o'mine
I should like to send you a sunbeam, or the twinkle of some bright star,
or a tiny piece of the downy fleece that clings to a cloud afar.
I should like to send you the essence of a myriad sun-kissed flowers,
or the lilting song as it floats along, of a brook through fairy bowers.
I should like to send you the dewdrops that glisten at break of day,
and then at night the eerie light that mantles the Milky Way.
I should like to send you the power that nothing can overflow -
the power to smile and laugh the while a-journeying through life you go.
But these are mere fanciful wishes; I'll send you a Godspeed instead,
and I'll clasp your hand - then you'll understand all the things I have left unsaid
Some of the best-loved poems, such as the funeral poem, "Remember Me", are included in this resource:-
"Funeral and Memorial Service Readings, Poems and Tributes" - - - >>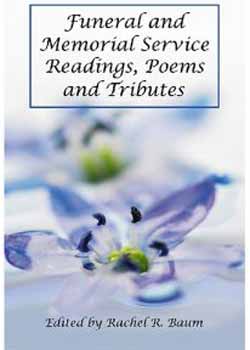 Funeral Poem Remember Me
memorial funeral poem
Funeral Poems for Mom or for loss of a Father
mother eulogy poems
Funeral Poems for Mom or Dad
Funeral poem for grandmother or grandfather
Irish funeral blessing
in loving memory poems
eulogy poems
best poems for funerals
memorial poems
christian poem for funeral
inspirational poem for a funeral
"Funeral and Memorial Service Readings, Poems and Tributes" - - - >>
Funeral Poem: "An Eternal Memory"
...Until We Meet Again

Those special memories of you
will always bring a smile
if only I could have you back
for just a little while
Then we could sit and talk again
just like we used to do
you always meant so very much
and always will do too.
The fact that you're no longer here
will always cause me pain
but you're forever in my heart
until we meet again.
Funeral Poem: God's Garden
God looked around His garden
And he found an empty place.
He then looked down upon this Earth,
and saw your tired face.
He put His arms around you and
Lifted you to rest.
God's garden must be beautiful,
He always takes the best

He knew that you were suffering,
He knew you were in pain.
He knew that you would never
Get well on earth again.
He saw the road was getting rough,
And the hills were hard to climb,
So He closed your weary eyelids,
And whispered "Peace be thine."

It broke our hearts to lose you
But you didn't go alone,
For part of us went with you,
The day God called you home.
Funeral Poem: The Garden That I Love
The Garden that I love is full of Light;
It lies upon the sloping of a hill,
Where Dawn first stirs the curtains of the Night,
And the breeze whispers when the Noon is still.

The garden that I love is full of Peace;
The voices of the vale are faint and far,
The busy murmurs of the highway cease,
And silently, at evening, comes the Star.

The garden that I love is full of Dreams;
Visions of joy gone by, and bliss that waits,
Beyond the furthest verge of sunset gleams,
With the wide opening of the Golden Gates.

The garden that I love is full of Rest;
God's own fair Acre, where His dear ones lie,
In the safe shelter of the kind earth's breast,
Waiting His Easter dawning up the sky.

~ F.L. Henderson
We Were Here
Upon the rugged shores of Lake Huron the
seasons have all come and gone
Of men and boats and harbors from the storm
The Lighthouse brings them back to shore, the
Lighthouse stands for so much more
In the hearts of those who keep the memories warm

Like a beacon in the night
Guide us to the Light
Shine within each heart so strong and clear
As the seasons pass in time
The past is yours and mine
Tell those who are yet to come
That we were here

Amid the daily storms of grief and strife
Adrift upone the sea of life
A ship can sometimes drift and lose her way
Living in a world of change
It's good to know that some things remain
To help us all preserve that brighter day.

~ Michael Goodwin Lyrics 2000
Funeral Poem: "The World's Greatest Need"
A little kindness and a little less greed;
A little more giving and a little less need;
A little more smile and a little less frown;
A little less kicking a man when he's down;
A little more 'we' and a little less 'I';
A little more laughs and a little less cry;
A little more flowers on the pathway of life;
And fewer on graves at the end of the strife.

~ C. Austin Miles
Afterglow
I'd like the memory of me to be a happy one.
I'd like to leave an afterglow of smiles when life is done.
I'd like to leave an echo whispering softly down the ways,
Of happy times and laughing times and bright and sunny days.
I'd like the tears of those who grieve, to dry before the sun;
Of happy memories that I leave when life is done
Whether you are looking for funeral poems to express your own feelings at this time, or you are preparing a eulogy speech, tribute or need something brief for an obituary, you will find some more suggestions at poem4today.com
May the winds of heaven blow softly...
And whisper in your ear
How much we love and miss you
And wish that you were here
Funeral Poem: "Miss Me But Let Me Go"
When I come to the end of the road
and the sun has set on me,
I want no rites in a gloom filled room
why cry for a soul set free.
Miss me a little--but not too long,
and not with your head bowed low,
Remember the love that we once shared,
miss me--but let me go.
For this is the journey that we all must take,
and each must go alone.
It's all part of the Master's plan,
a step on the road to home.
When you are lonely and sick of heart,
go to the friends we know.
And bury your sorrows in doing good deeds,
miss me--but let me go.
Funeral Poem: Look For Me In Rainbows
Time for me to go now, I won't say goodbye;
Look for me in rainbows, way up in the sky.
In the morning sunrise when all the world is new,
Just look for me and love me, as you know I loved you.

Time for me to leave you, I won't say goodbye;
Look for me in rainbows, high up in the sky.
In the evening sunset, when all the world is through,
Just look for me and love me, and I'll be close to you.

It won't be forever, the day will come and then
My loving arms will hold you, when we meet again.

Time for us to part now, we won't say goodbye;
Look for me in rainbows, shining in the sky.
Every waking moment, all your whole life through
Just look for me and love me, as you know I loved you.

Just wish me to be near you,
And I'll be there with you.

~ Conn Bernard, Vicki Brown
If I Should Never See the Moon Again
If I should never see the moon again
Rising red gold across the harvest field
Or feel the stinging soft rain
As the brown earth her treasures yield.

If I should never taste the salt sea spray
As the ship beats her course across the breeze.
Or smell the dog-rose and new-mown hay,
or moss or primroses beneath the tree.

If I should never hear the thrushes wake
Long before the sunrise in the glimmering dawn.
Or watch the huge Atlantic rollers break
Against the rugged cliffs in baffling scorn.

If I have to say good bye to stream and wood,
To wide ocean and the green clad hill,
I know that he, who made this world so good
Has somewhere made a heaven better still.

This bears witness with my latest breath
Knowing the love of God,
I fear no death.
Funeral Poem: "Waiting at Heaven's Door"
Death beckoned her with outstretched hand
And whispered softly of an unknown land,
But she was not afraid to go
For though the path she did not know
She took death's hand without a fear
For God who safely brought her here
Had promised He would lead the way
Into eternity's bright day.

For none of us need go alone
Into the valley that is unknown,
But, guided by our Father's hand
We journey to the promised land.

She was your special loving Mother
You shared your lives with one another,
And you'll find comfort for your grief
In knowing her death brought sweet relief.
For, now she is free from all suffering and pain
And your great loss became her gain...

You know that her love is with you still
For she loved you in life and always will.
Love like hers can never end
Because it is the perfect blend
Of joy and sorrows, smiles and tears,
That just grew stronger with the years.
Love like hers can never die
For she's taken it with her to the sky...

So think of Mum as living above
No farther away than your undying love,
For now she is happy and free once more
And she's waiting for you at Heaven's door.

~ Helen Steiner Rice
Click here for funeral handouts or sample funeral program ideas.


Here's the most requested memorial poem on the internet:-
Funeral Poem: "Remember Me"
Remember me when I am gone away,
Gone far away into the silent land;
When you can no more hold me by the hand,
Nor I half turn to go, yet turning stay.
Remember me when no more, day by day,
You tell me of our future that you planned:
Only remember me; you understand
It will be late to counsel then or pray.

Yet if you should forget me for a while
And afterwards remember, do not grieve:
For if the darkness and corruption leave
A vestige of the thoughts that once I had,
Better by far you should forget and smile
Than that you should remember and be sad.

~ Christina Rossetti
and here is a favorite poem about death:-
Funeral Poem: "Death Is Nothing At All"
Death is nothing at all,
I have only slipped into the next room
I am I and you are you
Whatever we were to each other, that we are still.
Call me by my old familiar name,
Speak to me in the easy way which you always used
Put no difference in your tone,
Wear no forced air of solemnity or sorrow
Laugh as we always laughed at the little jokes we enjoyed together.
Play, smile, think of me, pray for me.
Let my name be ever the household world that it always was,
Let it be spoken without effect, without the trace of shadow on it.
Life means all that it ever meant.
It it the same as it ever was, there is unbroken continuity.
Why should I be out of mind because I am out of sight?
I am waiting for you, for an interval, somewhere very near,
Just around the corner.
All is well.

~ Henry Scott Holland
My Angel Up In Heaven
My Angel up in Heaven,
I wanted you to know,
I feel you watching over me,
everywhere I go.
I wish you were with me,
but that can never be.
Memories of you in my heart,
that only I can see.
My Angel up in Heaven,
I hope you understand,
That I would give anything
if I could hold your hand.
I'd hold you oh so tightly,
and never let you go,
And all the love inside of me,
to you I would show.
My Angel up in Heaven,
for now we are apart,
You will always live inside of me
deep within my heart.

~ Dave Hedges
Poems About Death
Death
If I should die before the rest of you,
Break not a flower nor inscribe a stone.
Nor, when I'm gone, speak in a Sunday voice,
But be the usual selves that I have known.
Weep if you must,
Parting is hell.
But life goes on,
So........ sing as well.

~ Joyce Grenfell
A Song of Living
Because I have loved life, I shall have no sorrow to die.
I have sent up my gladness on wings, to be lost in the blue of the sky.
I have run and leaped with the rain, I have taken the wind to my breast.
My cheeks like a drowsy child to the face of the earth I have pressed.
Because I have loved life, I shall have no sorrow to die.

I have kissed young love on the lips, I have heard his song to the end,
I have struck my hand like a seal in the loyal hand of a friend.
I have known the peace of heaven, the comfort of work done well.
I have longed for death in the darkness and risen alive out of hell.
Because I have loved life, I shall have no sorrow to die.

I gave a share of my soul to the world, when and where my course is run.
I know that another shall finish the task I surely must leave undone.
I know that no flower, nor flint was in vain on the path I trod.
As one looks on a face through a window, through life I have looked on God,
Because I have loved life, I shall have no sorrow to die.

~ Amelia Burr
I Thought of You With Love Today
I thought of you with love today
but that is nothing new
I thought about you yesterday
and days before that too.
I think of you in silence
I often speak your name
All I have are memories
and your picture in a frame.
Your memory is my keepsake
with which I'll never part
God has you in His keeping
I have you in my heart.

I shed tears for what might have been,
a million times I've cried.
If love alone could have saved you,
You never would have died.
In life I loved you dearly,
in death I love you still,
In my heart you hold a place
no one could ever fill.
It broke my heart to lose you,
but you didn't go alone,
For part of me went with you,
the day God took you home.

The Golden Gate stood open
He saw that you were getting tired,
and a cure was not to be,
So he put his arms around you
and whispered "Come with Me".
With tearful eyes we watched you suffer
and saw you fade away.
Although we loved you dearly,
we could not make you stay.
Your heart full of love stopped beating
your happy little hands to rest,
God broke our hearts to prove to us
that he only takes the best.
And to lighten the mood some more, here are some humorous funeral quotes to make you smile...
Quotes about Funerals
I'm always relieved when someone is delivering a eulogy and I realize I'm listening to it. ~ George Carlin
They say such nice things about people at their funerals that it makes me sad to realize that I'm going to miss mine by just a few days.. ~ Garrison Keillor
I want to die like my father, peacefully in his sleep, not screaming and terrified, like his passengers.
~ Bob Monkhouse
Death leaves a heartache no one can heal; Love leaves a memory no one can steal
And an Irish Toast to the Deceased
May the Lord welcome you in Heaven, at least an hour before the Devil knows your dead. ~ Edward Russell
Thanks for visiting , I hope you find a poem suitable for the funeral.