First Birthday Party
A 1st birthday is an important event - an occasion for celebration. Not only for your child but also your family, and this is the first of many family celebrations that will set a tradition for the years to come.
Planning a First Birthday Party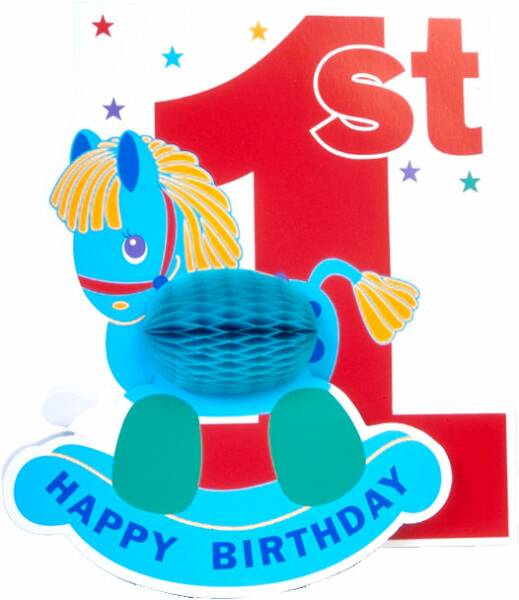 Whilst some people feel that it doesn't matter how you celebrate this day, as the child will be too young to remember it, you'll find that it's a great way of celebrating the life of your child and that, years later, they'll be keen to look back on photos of themselves on this day.

Remember, the very first birthday in a child's life is probably the most special and the biggest celebration during childhood

In party shops there's now plenty of items and goods with numbers on for any age - yes, even for a one year old ! Of course, choosing a favorite disney or cartoon character, will also go down well with adult and children guests alike.
If you like tradition, then pink for girls and blue for boys are the traditional colors.
For cakes, you can have something to fit in with your theme, or simply a favorite chocolate or sponge cake that baby will enjoy - decorated and iced, with a single candle.
Do remember to take plenty of photos for your family photo album and to email friends and post to social sites such as Facebook.
Gift Ideas For A First Birthday
For parents, buying a present for your child is probably easy. For guests, it can be harder - the easiest tip is to ask the parents what to bring. Sometimes there are items of clothing that the baby needs, or toys that they'd like to buy him or her, that you can help with.
Personalized gifts are often welcome at this special occasion - as items to be treasured and kept as heirlooms. For example, an engraved silver teaspoon or mug or a bib with their initials or name embroidered.
First Birthday Party Ideas
A child's first birthday is very exciting for the parents. The child doesn't really understand what is going on (although he probably very much appreciates the chance to dive head first into an entire birthday cake), so to be honest, this first party is more for the parents.
Here are a few rules of etiquette to keep in mind when celebrating this important milestone.
First Birthday Invitations
There was an invitation to a first birthday sent out that actually included gift ideas. Yes, this really happened. While this should not need to be said, based on the aforementioned invitation, perhaps it does. Do NOT offer gift ideas and especially do not list them on an invitation.
If someone asks for advice about what to get your child, you can offer a suggestion if you'd like. A better idea would be to say "Oh, any gift would be appreciated."
First Birthday Party Plan
It's important to remember that the birthday child - and probably most of the guests - are very young. You cannot expect them to entertain themselves, so you should have a plan about how the children will be entertained and cared for during the party.
Short First Birthday Party
Another good tip is to not drag the party out. Usually parents will end up staying at a party when their kids are this young. Keep the party to no more than two to three hours so that these parents won't feel obligated to stay all day.
Thank You Notes for First Birthday
Obviously, the child is too young to write his own thank you notes, but that doesn't mean they should not be sent. The responsibility falls to you to write and send the thank you notes. This should be done as soon as possible after the party.
Opening First Birthday Gifts & Presents
At most birthday parties, it is normal for the gifts to be opened during the party. However, if your one year old is having a tantrum and doesn't want to open the gifts, there is no reason to force him.
If he's having a great time ripping the paper off the gifts, then great, let him continue. If he is not, however, simply move on to another activity. When the guests leave, the rest of the gifts can be opened whenever the birthday boy or girl is ready.
It's much better than forcing your guests to sit through 30 minutes of screaming.
First birthday etiquette is simple if you just apply a bit of common sense. Don't be a Momzilla. Yes, it's a very special day for your family, but everyone else still has their own schedules.
Don't get offended if someone can't stay for the whole party. Just be glad that they took the time to stop by and help you celebrate.
Recommended Resources
Looking for more information & some great ideas for a baby's first birthday party:- check out More great party ideas